Science Media SAVVY in Auckland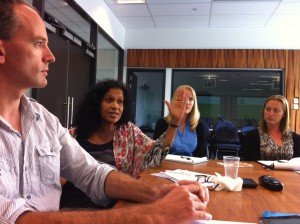 Twelve keen scientists were put through their paces in Auckland in mid-March in the second of the Science Media Centre's national series of media skills workshops.
More than basic media training, the course is designed to move scientists out of their comfort zone, increasing awareness of how their choice of words, body language and intensity can enable them to connect with different audiences, and providing direct feedback and support from fellow scientists.
The course also offers a unique chance to make valuable media contacts and gain first-hand insight into news media practices during an invited journalists' panel and newsroom tour on day two. New skills are then put to the test in a story pitch session directly to visiting journalists.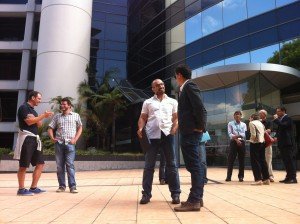 An open call for SAVVY scientists in February asked applicants to outline a research area of potential interest to media and explain why they were keen to further develop their media skills.  After an intensely competitive selection process, the final list of participants included researchers from AUT University, Plant & Food Research, the Liggins Institute, Unitec, the MacDiarmid Institute and the University of Auckland.
Participants had a broad range of prior media experiences, and mid-career researchers and PhD candidates shared the table with professors and Heads of Department. Scientists told us that having a diverse range of disciplines and experience levels represented really worked for them and improved the dynamic of the course.
Feedback from scientists on SAVVY:
"I honestly thought this was an amazing course. We had just enough time to cover the important things, were exposed to some great people and got a real insight into the media world with hands-on experience."
"The workshop exceeded my expectations, was very well-organised and run. I thought I would gain an insight into media, however I learned a lot about how much power I have as a scientist."