A magnitude 6.2 earthquake stuck the lower North Island of New Zealand yesterday at 3.52pm, centred 34 kilometres south-south-east of Palmerston North at a depth of 28 kilometres.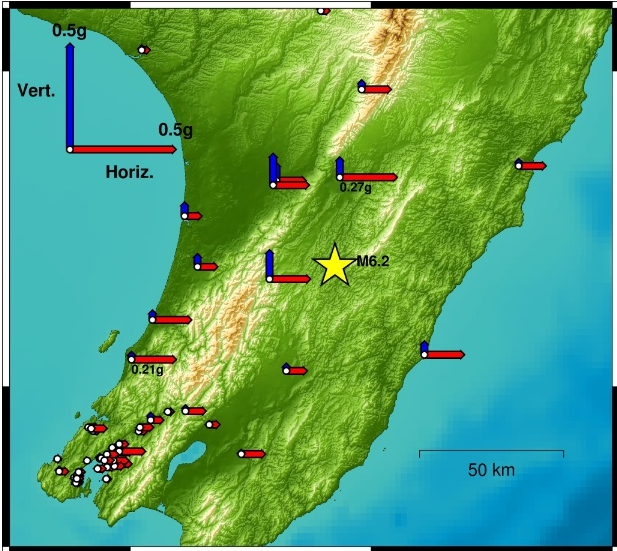 The quake was felt over much of the country, with damage and power outages resulting in Palmerston North, Eketahuna and other parts of the lower North Island. Light damage was sustained in Wellington.
GNS Science reported that estimates put the location of the quake between the subducting Pacific plate and the overriding Australian plate.
GNS also said of the probability of aftershocks: "In the first week of the aftershock sequence, we estimate that there will be about 23 aftershocks of magnitude 4.0 to 4.9, with the final number probably falling between 14 and 33. We also estimate about 2 aftershocks of magnitude 5.0 to 5.9 with the final number probably between 0 and 5″.
GNS described the likelihood of a larger seismic even in the region in the coming weeks as "minor". Seismologists were now trying to learn more about the quake:
"The seismology team at GNS Science is also attempting to understand the earthquakes in the context of recent and ongoing seismicity. Specifically, efforts are aimed at comparing the current earthquakes with a sequence of events that occurred to the north of Eketahuna in the early 1990s. We are also considering possible links to the ongoing Kapiti slow slip event."
The quake and aftershocks have generated extensive media coverage with the front pages of the New Zealand Herald and Dominion Post devoted to them.
Selected quake coverage

Taranaki Daily News – More quakes after powerful 6.2 shake
New Zealand Herald – Science behind the quakes
New Zealand Herald – Quakes likely to last weeks
Otago Daily Times – Severe quake shakes North Island
Sky News – Large earthquake felt across New Zealand