The New Zealand Herald's Economics Editor Brian Fallow expresses his concern on climate policy in New Zealand.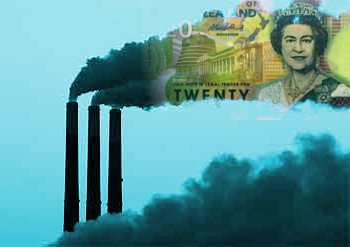 An excerpt (read in full here):
Brian Fallow: A year on, climate policy still a disgrace
Govt stance cannot be reconciled with its forecasts of emissions growth in latest policy report to the UN
A year ago, this column described the state of New Zealand's climate policy as a shambles and a disgrace. A year later there is no reason to eat those words.
The past year has seen the scientists, in the form of the United Nations' Intergovernmental Panel on Climate Change (IPCC), give an update on the state of science which ought to have swept away any remaining complacency about the physical and economic challenge.
But all the Government has done this year is belatedly table in the international negotiations a commitment to reduce New Zealand's emissions by 5 per cent from 1990 levels by 2020.
Climate Change Minister Tim Groser said at the time that the target would require no changes to the settings of the emissions trading scheme.
That cannot be reconciled, however, with the Government's forecasts of emissions growth contained in its latest report to the UN on the state of climate policy in this country, released last Friday.
View the full article