In the latest move to address declining water quality in rivers and lakes, the Government has proposed a new set of national 'bottom lines' for freshwater ecosystem and human health values.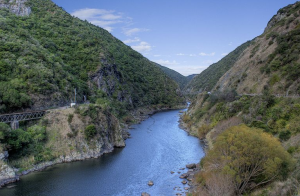 The proposal follows extensive discussion with scientific panels and other stakeholders. A consultation period will run between now and February 2014.
Read the full release here.
The Science Media Centre collected the following expert commentary on the discussion document released today.
Feel free to use these quotes directly or contact us on 04 499 5476 or smc@sciencemediacentre.co.nz for further assistance. Further comments will be added to the Science Media Centre website.
Dr Roger Young, freshwater ecologist at the Cawthron Institute comments:
"After being involved in a science panel making recommendations on the National Objectives Framework, I'm very pleased to see the release of this report.
"The report is a culmination of many people's efforts over the last two years and represents an important step in the plan for improved freshwater management that was devised by the Land and Water Forum.
"I'm particularly pleased to see recognition of the strong connection between what happens on the land and potential effects on the coastal environment.  There was a risk that these links would fall through the gap between the freshwater and coastal policy statements.
"The proposed National Objectives Framework is still incomplete, but I hope to see additional attributes being included in the framework in the near future as additional scientific information becomes available.
"One of the challenges of implementing the framework will be deciding on an appropriate scale of the freshwater management areas. There will need to be a balance between coarse scale management, which may be ineffective, and fine-scale management, which will be more costly."
Associate Professor Russell Death, Director of Centre for Freshwater Ecosystem Management and Modelling, Massey University comments:
"The proposed 'bottom lines' of the listed variables are set near the appropriate levels for what they are intended to do, but any appropriate measure to protect rivers is completely absent. In the long to short term this is going to allow greater degradation of our rivers.
"To protect our rivers (within the limits of reasonable economic development) there should have been limits for instream nitrogen concentration (not its toxicity effect but the ecosystem health effect), instream phosphorus concentration (why do we have nitrogen and phosphorus limits for lakes but not rivers?), MCI (biological invertebrate health measure), IBI (fish health measure) and deposited sediment. These variables we have known about for at least 20 years as important for assessing river health or that can influence river health and for most of which we have well established limits already.
"The question of whether the potential impact of offering exceptions for significant infrastructure that has a 'significant economic benefit' seems like a get-out-of-jail-free card. It will always be easy to claim "significant economic benefit" I wonder why economic benefit is more important than environmental/societal/cultural/recreational benefit? But this is not really a science question.
"Some of the numbers presented are an example of an "evidence-based policy". But there is extensive evidence of the factors listed above (nitrogen limits, phosphorus limits, MCI (invertebrates), IBI (fish), deposited sediment) being important for environmental bottom lines in rivers but where are they in the mix?
"I am not sure which scientists have been involved (I have not) but I would be surprised if many freshwater scientists in New Zealand would suggest we can protect the environmental bottom line of rivers without considering the parameters listed above.
"Where to next? More degradation of rivers in the name of economic development."
Dr Graham McBride, Principal Scientist, Water Quality, NIWA comments:
Why were the bottom lines for human health set for wading and boating, not swimming?
"Because there are already Microbiological Water Quality Guidelines for freshwater and coastal water, issued jointly by the Ministry for the Environment and the Ministry of Health, in 2003″
Why have E. coli and cyanobacteria been singled out as human health indicators, and why have they been set at the given levels? 
"E. coli has been used as a human health indicator (with respect to pathogens) primarily because a nationwide microbiological study some years ago identified that bacterium as a suitable surrogate for the pathogen of interest (Campylobacter). I can't comment on cyanobacteria."
Why rely on annual medians rather than peak measurements? Will this keep people safe enough in the lowest performing regions?
"I understand that medians were used to facilitate efficient assessment of compliance, given that the sampling effort for secondary contact waters is typically lower than for primary contact (swimming) waters (typically monthly versus weekly)."
Is this a good example of an "evidence-based policy"? Have scientists' contributions been listened to?
"'Yes' to both questions."
Dr Mike Joy, Senior Lecturer, Institute of Agriculture and Environment, Massey University comments:
Are the proposed 'bottom lines' set at appropriate levels? How much of a difference are they likely to make in the short and long term?
"No, they are not because they are not measuring anything meaningful.  For example; you can't measure something as variable as dissolved oxygen in a one-off sample.  And setting N levels based on toxicity is pointless – when ecosystem level changes like periphyton blooms happen at way lower levels, it's too late by the time they reach toxicity."
What is missing from the proposal?
"Biological monitoring is missing. "One-off sampling of oxygen or nutrients is pointless when they are so variable, so the biological communities are the only way to go. See the rest of the OECD for examples of how biomonitoring is emphasised."
In your view, what is the potential impact of offering exceptions for significant infrastructure that has a "significant economic benefit"?  
"This seems to be an out clause, so anything will go. It's a way of weakening provisions that might protect the environment.  The key point is: who decides what is significant economic benefit? Does the analysis of 'benefit' include the costs to society, the environment, the future chances for life-supporting capacity?"
Is this a good example of "evidence-based policy"? Have scientists' contributions been listened to?  
"I'm not sure who was listened to — I wasn't. I would be interested to hear a freshwater scientist detail how these 'bottom lines' could protect freshwater ecosystem health."
Where to next?
"Freshwater health will continue to decline, until we look at the drivers – mainly farming intensification."
View the full article