Results are in for the latest government-backed science funding round, worth $278 million over coming years.  
The Ministry for Business, Innovation and Employment (MBIE) announced yesterday that 51 research projects spread over five priority funding areas have received the green light. Projects are slated to begin in October this year and will run for anywhere from one to seven years.
Here are some vital stats:
Total by research fund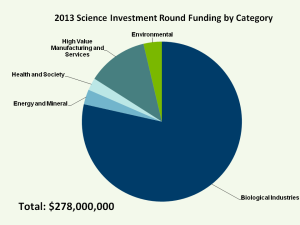 Total by awardee
Crown Research Institute (CRI)-led = 25 projects ($151 million)
University-led = 16 projects ($32 million)
Other research provider-led = 10 projects ($94 million)
Duration of funding
7 years = 2
5-6 years = 22
3-4 years = 17
1-2 years = 10
Full details of the various projects have yet to be released. A few of the more intriguing titles include:
"Geothermal supermodels" – GNS Science
"Trojan female technique" – Landcare Research
"From bee minus to bee plus and beyond" – Plant and Food Research
"Microbes from inner space" – AgResearch
"Who are today's dads?" – University of Auckland
"Trustworthy biodiversity measures" – Landcare Research
"New Zealand hops and craft beers, rising stars in the international brewing market" - Plant and Food Research
An MBIE spokesperson says brief descriptions of all 51 projects will be available on their website in the coming days.
View the full article